I made "sashimi" and "shabu-shabu" as Japanese famous food using the yellowtail fished on December 2, 2017, so I will show you how to make it.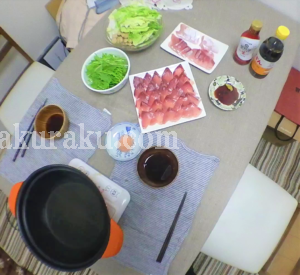 Do you know what the traditional fish dishes using yellowtail in Japan?
In Japan, yellowtail is the most famous fish. And it is also a fish that is farming abundantly and is a fish that you see every day at the supermarket. December 2, 2017, I caught the yellowtail in the ocean of Japan below. It was 2.3ft and 7.7 lbs.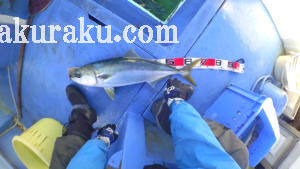 Click the following fishing diary. (Japanese only.)
【釣行記】泳がせ釣りで激渋の中ブリ(ワラサ・メジロ)が釣れた!!
At first, most of Japanese think that the fish dishes using this fish is "Sashimi" and "Shabu-shabu" , "Teriyaki" , "shio-yaki" , "Nabe" , "Ushio-jiru" , "Buri-daikon" etc…
Raw fish, Grilled fish, Boiled fish.
We can cook various fish deshes and very delicious.
Especially, it is winter in December and cold in Japan.
When it gets cold, yellowtail will store fat, so it will be more delicious fish.
So, we eat "sashimi" of this fish, when it is fresh within a few days. After days, we eat boiled fish or griled fish.
But, most delicious time is two days ago. So, we have method of keeping fresh and aging.
So this time, we cooked "Sashimi" and "Shabu-shabu" using yellowtail of one day later.
How to handle yellowtail
At first, we will show you how to cook "sashimi".
Step.1
I washed the fish with freshwater. And I cleaned it using new towel.
Step.2
I removed scale and internal organs.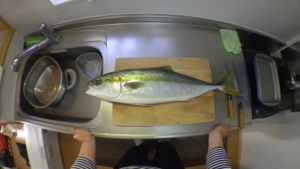 Yellowtail' scale is very small, so I removed with a kitchen knife.
Before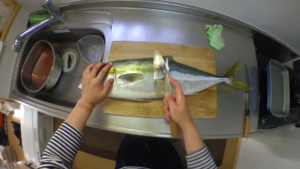 After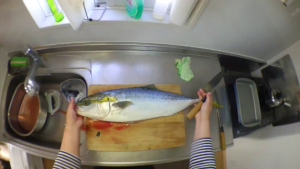 I removed the scales and put it in this state. Back side do it too. And I removed internal organs.
The internal organs of the fish can be removed by opening the stomach with a kitchen knife.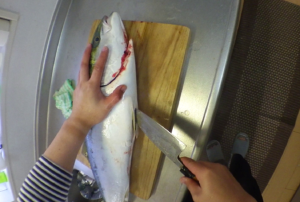 I cleared the internal organs of the fish neatly, so I washed it clean with freshwater.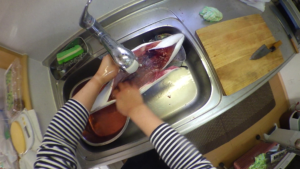 Step.3
I cut off the head of the yellowtail.
Before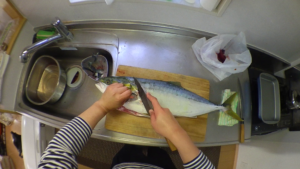 After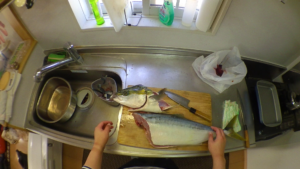 I keeped the head of yellowtail, because it will be another dish.
Step.4
I divided it into three. I carefully cut so that no fish meat remains in the middle bone.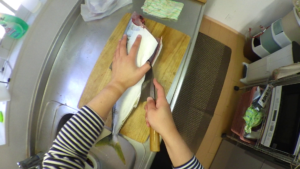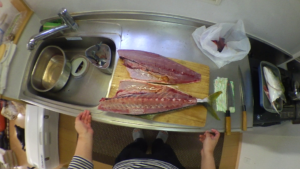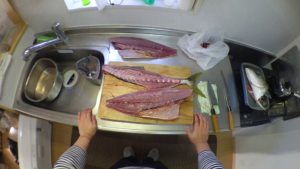 Step.5
It was completed it, next I removed the rib from the half meat.  Work to remove ribs may be difficult, but please challenge without fear of failure.
The ribs of the fish are very tasty, so absolutely not thrown away.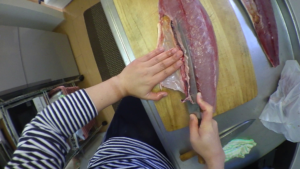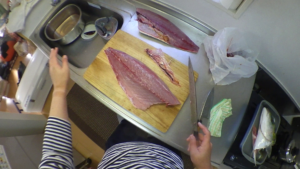 Step.6
Next I removed the bone in the middle of the half meat.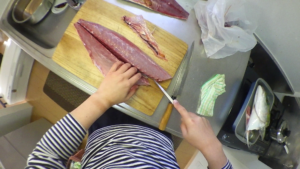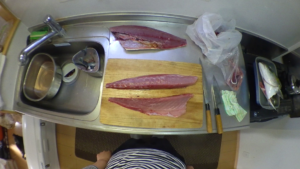 If you can do so far, wrap it all and put it in the refrigerator so that it save freshness until you use it.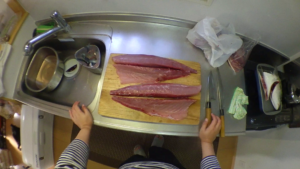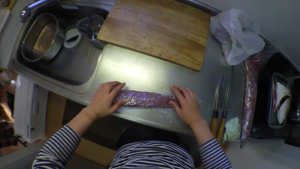 By doing this, you can use it for "Sashimi" and "Shabu-shabu" if you will remove the skin. Also, you can make grilled fish and boiled fish with leather attached, so when you handle fish you should save it after processing to this state.
How to make "Sashimi" and "Shabu-shabu" of yellowtail
Step.1
In the steps so far I explained how to handle yellowtail. Next I well explaine how to make "Sashimi" and "Shabu-shabu" of it. I removed the skin to make "Sashimi" and "Shabu-shabu".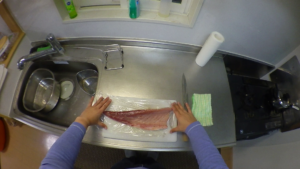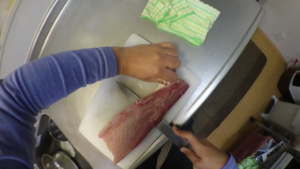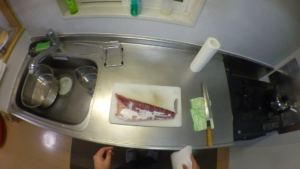 Step.2
Next, I made the upper meat "Shabu-shabu" and the under meat "Sashimi" the quarter of the meat.
I cut the "Sashimi" thick and thinly cut the "Shabu-shabu".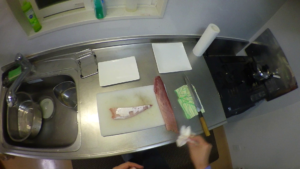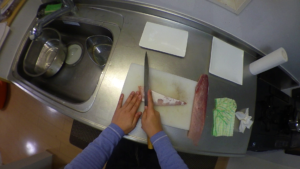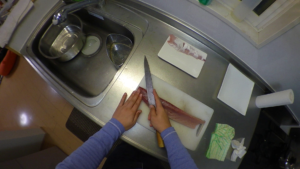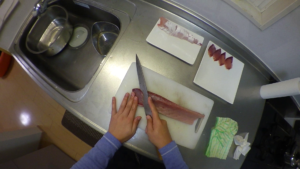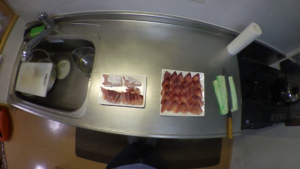 Step.3
Next time I cut vegetables. The vegetables I prepared this time are 4 types of Chinese cabbage, green onion, bamboo shoots, and mizuna. We will cut each to the same size.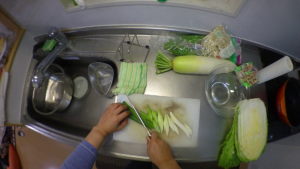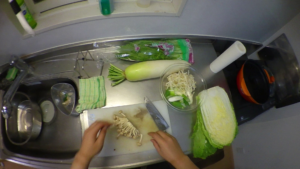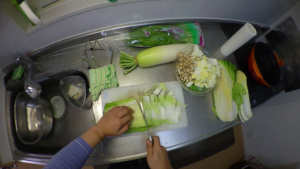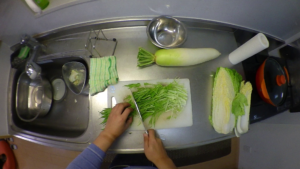 Step.4
I made soup stock using kelp. I halved the kelp cut into 6 inch and put it in 1 liter of water and boil. If you take it out just before boiling it is completion of soup stock.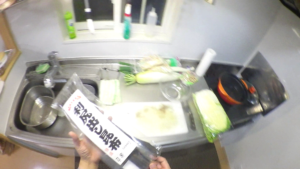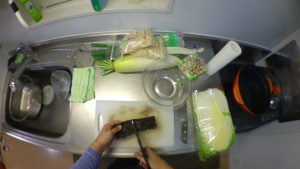 Step.5
The last is condiments. Ponzu is suitable for the source of kelp soup. Also, maple radish match well. It is very easy to make, can be made with one pepper and radish. Put pepper into a radish with a cut, I grind radish and pepper together with grater, and if lightly remove moisture with strainer, it is complete.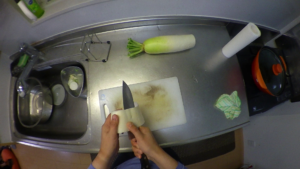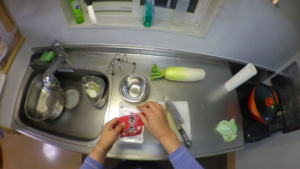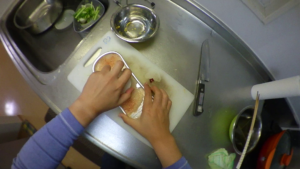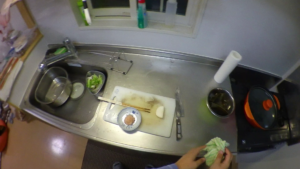 After that, all the ingredients are placed on the table and I was ready to eat.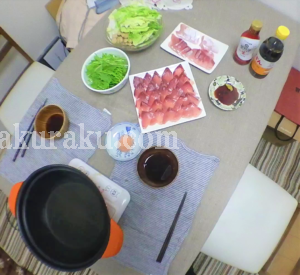 There is no particular way to eat, but first I will enjoy the "shabu-shabu" and I recommend that you eat vegetables with the soup stock from which the fish extract appeared. Also, since I put udon in the end, I recommend leaving room to eat.
And I recommend eating "Sashimi" with soy sauce and wasabi.
Feedback I ate yellowtail
It was delicious as expected, and "sashimi" enjoyed fresh texture and sweet fat. If you are very greasy and tasty and you eat them for the "Shabu-shabu" together with the mizuna in the kelp soup and eat it with maple radish ponzu, you can receive refreshingly. Of course, vegetables that I put in the place where fish fat and kelp come out were delicious, too. At the end, I put udon on the tightening and sucked delicious soup stock, I enjoyed the brilliant until the stomach was full.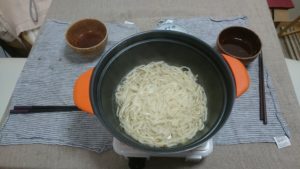 Summary
How to handle yellowtail.
Yellowtail can be cooked for any dish like raw fish, grilled fish, boiled fish.
We eat "sashimi" of fish, when it is fresh within a few days.
I recommend the kelp soup.
Let's put udon in the end of "Shabu-shabu".
It was article of "sashimi" and  "Shabu-shabu" that I wanted to write fish dishes first. Fish are popular as fishing targets and are delicious fish when eaten, so it is one of my favorite fish among me. Since yellowtail are large in size and can not be eaten with sashimi alone, there are times when you get bored before you eat all the fish meat. As a result of such experience, I am doing research on cuisine every time to increase the repertoire of fish dishes. Since this fish is used not only for this dish but also for other dishes, I will introduce it next time.
I hope that my articles will be helpful for everyone.